Engineering School in Aeronautics and Space
Air, Space, IPSA
IPSA trains aeronautics and space enthusiasts through its specialist engineering course.

Located at the crossroads of the industrial and academic worlds and with its research laboratories dedicated to aerospace, it places innovation at the heart of its training and also promotes international openness. It is present in 3 French regions where many companies linked to the world of air and space are located.
IPSA's strengths
60 years of
experience
under the banner
of innovation
Degree accredited
by the CTI
(Engineering degree commission)
Strong
international ties
with more than 80 partner universities
ISO 9001 : 2015
ISO quality
More than 65 associations
to live your passion
wholeheartedly
Member of the IONIS Group
First private
higher education group
in France
The IPSA 'Engineering Degree'
The title of engineer issued by IPSA is recognized by the CTI (Engineering Degree Commission). It certifies that the graduate is capable of tackling any problem related to air and space. The graduate has extensive general knowledge but also highly specialized skills in the fields of aeronautics and space.

The training provided at IPSA also enables graduates to work in related cutting-edge fields such as land and sea transport, which implement techniques and technologies close to those of the aerospace field.
IPSA training courses
The aim of the school's training courses is to guarantee the acquisition of the essential knowledge for high-level expertise and to validate the necessary skills to take on various responsibilities as they arise over a career.

Based on a balance between teaching and project implementation (linked to industrial issues), IPSA's courses integrate a strong aeronautical and space dimension from the very beginning of the training, evolving over the years. Students are actors of their training by choosing during the engineering cycle the technological majors allowing them to individualize their courses and to acquire an expertise in a field of their choice.

Corporate conferences and international exposure are there to provide additional skills that forge the student's critical thinking and decision-making ability.
Our training courses
EXCHANGE PROGRAMS
MASTER IN AERONAUTICAL ENGINEERING
BENG (HONS) OF THE UNIVERSITY OF SALFORD
SUMMER PROGRAMS
You want to study Engineering in English and enjoy Paris?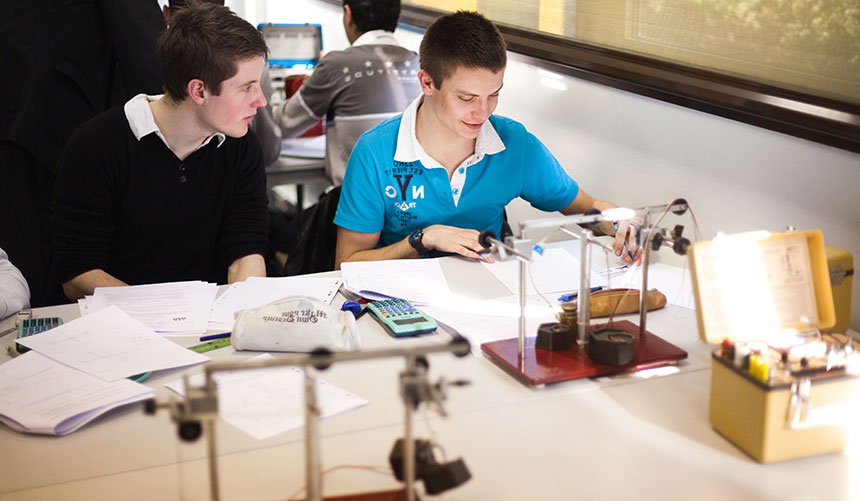 A culture of constant improvement
A certified quality management system
IPSA has been ISO 9001:2015 certified since January 2019.

This certification demonstrates the school's commitment to an approach aimed at increasingly meeting the expectations of all stakeholders and improving its practices. It is both the involvement of our management, the commitments of our quality policy, and our culture of continuous improvement and exemplarity that are thus recognized.
A sustainable development policy and commitment
In accordance with article 55 of the Law of 3 August 2009, IPSA is committed to the implementation of a Green Plan, a strategy integrating the dimension of sustainable development into its activities and operations.

The shared values of IPSA are sustainability, adaptability, responsibility and cohesion.
Focus on the international development and the links with the Corporate World
A school with an international vocation
All French speaking students must do an exchange semester in one of our partner universities during their 4th year. IPSA has around 80 partner universities.

Every year, IPSA welcomes an increasing number of international students on its Parisian campus. These students are here as exchange students or degree seeking students.
A school close to the industrial sector
In more than 50 years of existence, IPSA has been able to forge lasting relationships and partnerships with the major players in the aerospace sector. These partners are very involved and are willing to meet students and exchange with them on different aspects (scientific, technical, cultural and economic) of the engineering profession. This proximity with industry partners also enables IPSA to match its training with the needs of companies. The alumni are employed in the major and largest companies in the sector and are happy to return to their former school to share their experiences with the future IPSA engineers and graduates.
One school, three campuses
IPSA has been aware of the importance of being close to companies in the aeronautics and space sectors. IPSA opened a campus in Toulouse in 2007. Thus, IPSA is present in 3 French regions which stand out for the number and the variety of companies linked to the world of air and space, including equipment manufacturers in fields as diverse as materials, tools, electronic components and advanced systems.
If there is one school where passion is present, it is IPSA. The projects of the students' associations, by their complexity, reveal the passionate dedication of the IPSA students. IPSA also sets up various events to allow its students to live their passion differently, such as the setting up of a week dedicated to flying, the building of experimental rockets….